Welcome To Burns Technologies
Burns Technologies Inc. has been developing custom operational and enterprise software since 1999 and is the developer and supplier of the LoanerTrak® medical logistics application.
We specialize in :
Custom client-server applications used in operations, production, data integration and reporting
Interface to devices like barcode scanners, touchscreens, etc.
Website development with database-driven content, mobile device interface
Website hosting
Database hosting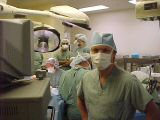 Utilizing decades of hands-on experience in material handling, accounting and logistics, our developers employ a user-first approach when developing apps, designing our software around the user's actual workflow rather than forcing the user to change his or her procedures to fit the program's design.
We design, build and release self-contained applications quickly and provide an easy method of updating and supporting the custom software after it is installed. Our development software is Windows-based and can interface with a multitude of database systems through a standard ODBC connection. We utilize scalable database systems, like MySQL®, to keep costs low and performance high. We have worked with companies with fewer than 5 employees to companies with over 1,500 employees. No project is too small.
Our commercially-available product, LoanerTrak, is built around this philosphy and has been running successfully in Fortune 500 medical companies in the Unites States and Canada since 2000.
From the supplier to the end user in any industry, our software is designed to follow proper workflow and matierial handling practices, benefitting all individuals in the supply chain.