Company Info
Burns Technologies Incorporated
Burns Technologies mission is simple; to make technology an asset, not a hinderance; to provide the highest quality, user friendly software, designed to minimize costs and maximize efficiency, to the device loaner industry. We are an organization that empowers its team to stand apart from the rest by serving our clients, stakeholders and communities with the highest level of customer service and support. We are passionate about designing powerful software solutions using best business practices and common sense.
Burns Technologies, Inc. (BTI) was founded in the year 2000 and is headquartered in Waterdown, Ontario, Canada. We specialize in logistics software for the Medical Device industry, as well as custom web-based applications for all industries.
Our approach to software solutions is simple. Our developers have worked in numerous industries, including the medical device industry, and have extensive business, management, accounting and material handling experience. We understand our customers' business challenges and provide the most intuitive and efficient solutions, with minimal development time. This results in quick turnaround times for projects at minimal costs to our customers.
Our software solutions have been extremely successful in fortune 500 companies, maintaining a 100% up-time for the past 17 years.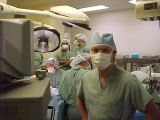 Our main developers have decades of hands-on experience working in the healthcare and medical device industries.
From managing actual loaner departments to providing surgical support in the operating room, we have expeienced the full spectrum of the loaner supply chain first-hand and fully understand the needs and challenges associated with this service.
Today's technology companies are developing newer and better products, and achieving technological breakthroughs faster than any period in human history. At the same time, as world markets open up to all companies, the process of bringing new ideas and products to the marketplace before the competition remains the greatest challenge to innovative businesses. Marketing these new and often costly products demands a significant investment in resources and strategies that bear heavily on a company's bottom line.
To present products to potential customers, companies often loan samples of their newest products to their business partners, distributors, and field representatives as this has proven to be a highly effective marketing tool. Demand for these loaner sample products increases as product lines and sales teams expand.
A variety of products such as power tools, electronic devices, laboratory equipment are loaned for demonstration, trials or trade shows – even the trade show booths and displays are handled by these loaner service departments.
Loaner systems are particularly important in the medical device field. The costs and complexity of new medical technologies coupled with shrinking hospital operating budgets places an unprecedented demand on loaner medical systems.
Loaner service departments have quickly become a highly specialized "company within a company", typically representing over 50% of a company's inventory dollars, while generating 20-75% of a company's sales revenue, and doing so with a completely manual or inadequate Information Management system. LoanerTrak® client-server and browser-based software combined with a time-tested loaner handling process was developed to address these demands.
Industries That Use Loaner Services
Medical Device

Surgical instruments, implants, endoscopy, image guidance, video systems.
Dental

Surgical instruments, dental instruments, imaging equipment.
Veterinary

Surgical instruments, video systems, lifts, special equipment.
Home Health Care

Wheelchairs, beds, commodes, assitive devices.
Laboratory

Testing, measuring and monitoring equipment.
Disaster Management

Rescue equipment, heavy machinery, cell phones.
Schools

Laptops, presentation equipment.
Film & TV

Production equipment, props, vehicles, costumes.
Auto Repair

Loaner vehicles during repair.
Aerospace

Specialized tools and equipment.
Military

Equipment, furniture, vehicles for deployments.
Farming

Some countries and regions use shared equipment for farming.